Crab Apple Cottages
Facilities
Afrikaans
BBQ | Braai Facilities
Child Friendly
English
Fire Place
Fully Equipped Kitchen
Hairdryer
Heating
Laundry
Non Smoking Establishment
Pets Allowed
Safe in Room
Secure Parking
Self-catering
Shower Facilities
Swimming Pool
Tea and coffee maker
Wedding Chapel
WiFi
WiFi (Internet access)
Internet
Free WiFi is available
Parking
Undercover, secure parking available
KwaZulu-Natal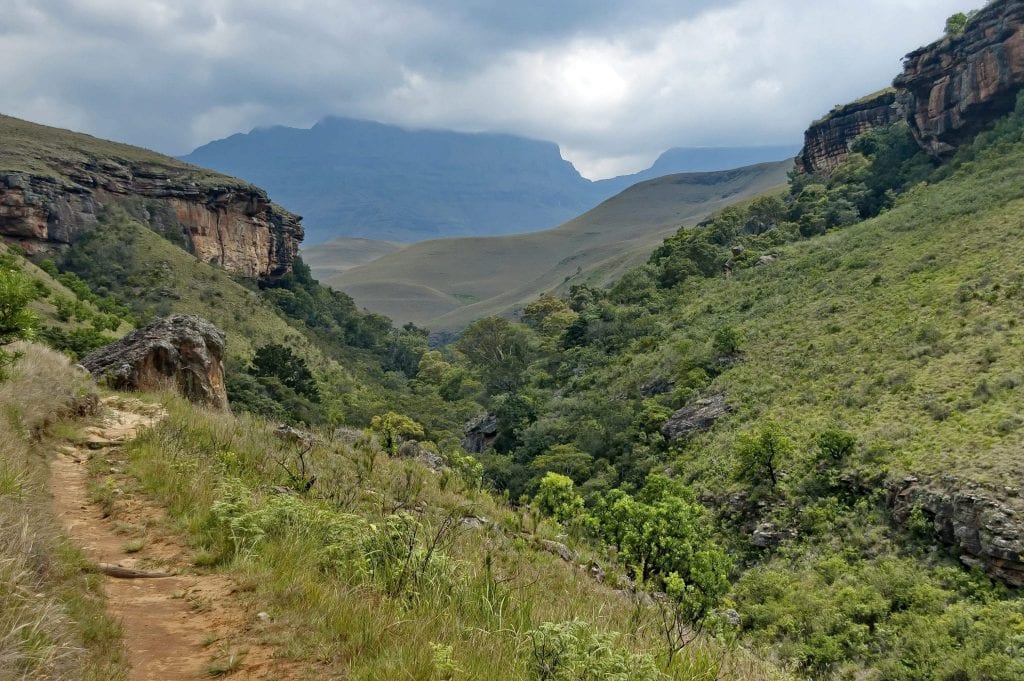 With ecosystems ranging from steamy sub-tropical forests and mangrove swamps to snow-clad mountains with a
---
Read more
Activities
Taste the soft spring water and allow the peace and serenity to refresh you. Listen to the Jackal calling from the hills and the hum of the bees deep in the forest.
In the forest, life moves at a gentler pace. Generations of visitors have experienced the soul-restoring reassurance that comes with being surrounded by the beauty of creation. It is filled with ancient trees and abundant birds and animals including Porcupine, Caracal, Bushbuck, Bush Pigs, Blue Duiker and Genets. Over 250 bird species are recorded in the Dargle and it teems with insect life, with 30 butterflies recorded in our valley.
Samango Monkeys are rare and gentle creatures and a delight to watch in the trees. They are herbivores, so cannot resist helping themselves to the contents of your fruit bowl. We have named the leader of the resident troop Rafiki.
You may be alarmed to hear a strange knocking and screeching sound from the forest at night. These are the nocturnal and seldom seen dassies (Tree Hyrax) calling – a rare treat. We are also a summer stopover spot for a pair of Yellow Billed Kites who migrate annually from Central Africa.
Determined to preserve the natural beauty of the area, Barend and Helen are active members of the Dargle Conservancy. The property is a Nature Reserve under the Biodiversity Stewardship Programme. For more about the Dargle Conservancy visit www.dargleconservancy.org.za
On the first Thursday of each month is the Kilgobbin Forest Walk from 9h00 to 11h00. Come and explore the mist-belt forest and adjacent grasslands. A donation of R20 goes to the Dargle Conservancy. Contact Barend on 082 787 0797 to book.
Experience Midmar Dam from a different vantage, from the comfort of a kayak! As you cut gently through the water, listen for the call of the Fish Eagles! Observe the nature reserve's wildlife, such as Black Wildebeest, Red Hartebeest, Zebras and an abundance of bird life, at close range. Enjoy the fresh midlands air and appreciate the beautiful views whilst learning more about the area and ecosystem from an experienced guide, Barend Booysen. If you are really fortunate, you may even experience the annual "Carp run', usually mid November, when many thousands of Carp venture into the shallows for the annual spawn.
An average fitness level, and an ability to swim, are a must to enjoy this adventure. Don't be afraid of the kayaks though, they are stable enough, even for beginners! The adventure starts at 8:30am from the banks of Midmar Dam. It is R500 per person and includes the kayaks, paddles and life jackets but excludes entry fee to Midmar Dam. We recommend you dress with a swimsuit underneath and sunscreen on top! Bring along warm clothes (the wind can be nippy!), a towel and sunglasses! Kayaking really isn't as much fun in the rain so it's weather permitting! Booking is essential but, the only day we don't paddle is Sunday!
Nearby
Countryside, Swimming Pool, Tourism attractions
General
Delightfully comfortable, Crab Apple'€™s AA Superior Cottages are set on the edge of the Kilgobbin Forest and the Dargle Valley Conservancy. Generations of visitors have experienced the soul-restoring reassurance that comes with being surrounded by the beauty of creation. The forest is filled with ancient trees, animals and over 200 species of birds. Find out more about birding and our walking trails here.
Retreat to one of our three thatched, self-catering cottages furnished with every comfort. The spacious, open plan living area, leads onto a sun deck. Each bedroom has a queen-sized bed and the loft, just up above the living area, has two single beds, so is ideal for the children. There is an antique cast iron Victorian tub and shower in the en-suite bathroom. The heated pool, braai and entertainment area are available for you to use.
Our delicious spring water, from the taps, is drinkable. We have also invested in a generator to ensure that should Eskom load shed, you will enjoy the luxury of a continuous electricity supply. There will be no 'lights out' during your stay with us. Enjoy our free Wi-Fi.
Cancellation / Prepayment
Deposit and cancellation policies:
A deposit of 50% on reservation.
If cancelled:
0-7 days prior to arrival, forfeit 100% of deposit;
7-14 days prior to arrival, forfeit 75% of deposit;
14-21 days prior to arrival, forfeit 50% of deposit;
21+ days prior to arrival, forfeit 30% of deposit.
Taxes and levies:
All inclusive.
Children and extra beds
Children are welcome at Crab Apple. We charge children 12 Years + as adults, children 4 to 11 Years (sharing with parents) at 50%, children 1 to 3 Years (sharing with parents) at 25% and children less than 1 year (sharing with parents) are free.
Pets
Don't leave your fur-child behind, we'd love to have all of you to stay! Experience country life, take a walk amongst the roses and breathe in the fresh air. Let the fur-children romp in our large, fenced garden. Snuggle down next to a roaring fire or laze beside the pool. A freshly laundered dog-bed is provided in your cottage. Please remember to bring his/her kibbles and bowls and current vaccinations are essential. Should you take a walk out along our adventurous country roads, please clip a lead on. We have our own fur-children and feathered friends (Marmaduke and his Venda Hens, our Labradors, Dach-Russels, horses, and cats) who make a well-socialised fur-child appreciated. Go carefully, you are responsible for your fur-child.
Check-in time
2pm
Check-out time
10am
Establishment Code
A01172
Price
Midweek, per person sharing R475 per night; Weekend, per person sharing R600
City
Dargle